Oakley X-Metal XX Nosebridge Tune Up Service and X-Metal Color Frame Refinish
[
NB-RRX
]
Oakley X-Metal XX Nosebridge Tune Up Service and X-Metal Color Frame Refinish
[
NB-RRX
]
Our Selling Price: US$78.00(tax included)
Weight: 1
---
Please go through the details below before placeing your order.
This sevice is only for match the frame color in X-Metal. Please confirm your frame color before bringing it to your shopping cart.
What is X-Metal?
X-Metal frame is dark gray color with rough surface one. You can see X-Metal in the picture below.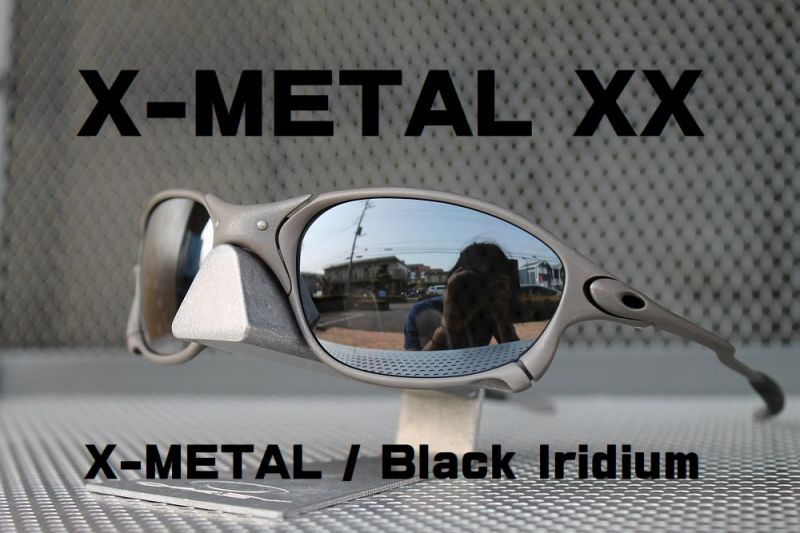 ---
Nose Bridge Tune Up Service and X-Metal Frame Refinish.
---
About for Frame rifinish.
At the same time we repair Nose bridge, Refinish the frame
we can revive it like a new products by reconstructing the old one. small scratches on the surface and discolor will removed by this refinish service.
Frame refinsih does not mean to paint and change the color to make it new but instead we anodise frame where you can feel slightly increase or thickness of the surface of metal and change the color to X-Metal. So, that to keep it's color long lasting in the future without discolor.
We will keep the serial number.
**Please keep in mind that this service is only accept the frame color of X-Metal. We dont accept any other frame for example Polished to X-Metal, Plasma to X-Metal,,,, etc.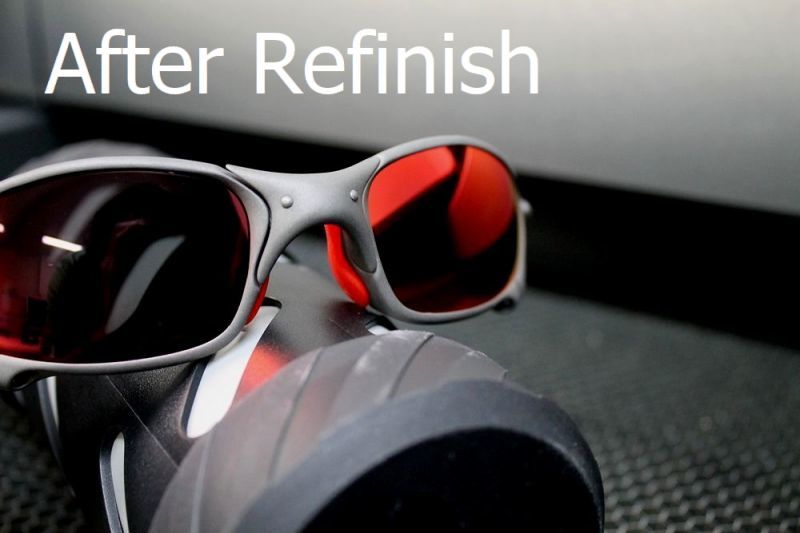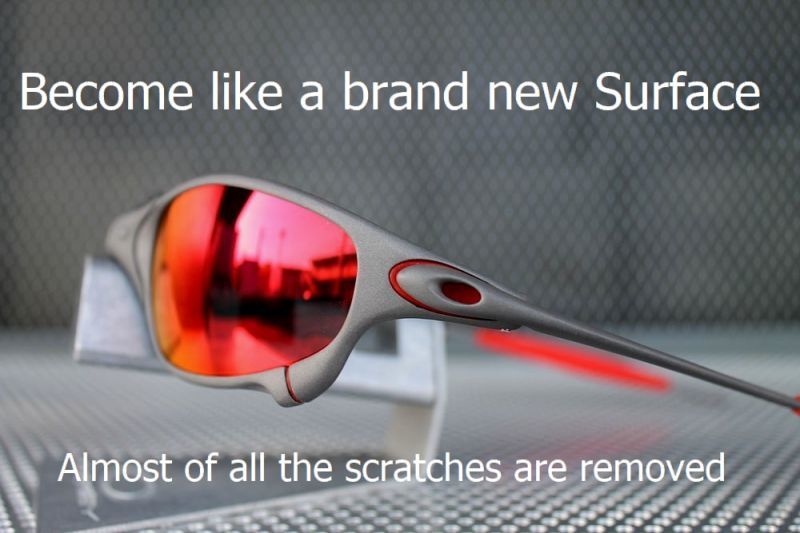 After refresh the frame will revive like new! Get a makeover to your old frame with scratches.
---
About for Nose bridge tune up
We will change the temple washer to new, and change the nose bridge flex coupler and nose bridge pin.(these parts prices are included in the selling price)
It means, after finishing this service, your frame will revive like new on its function.(We resolve loosness of nose bridge and loosness of arm part.)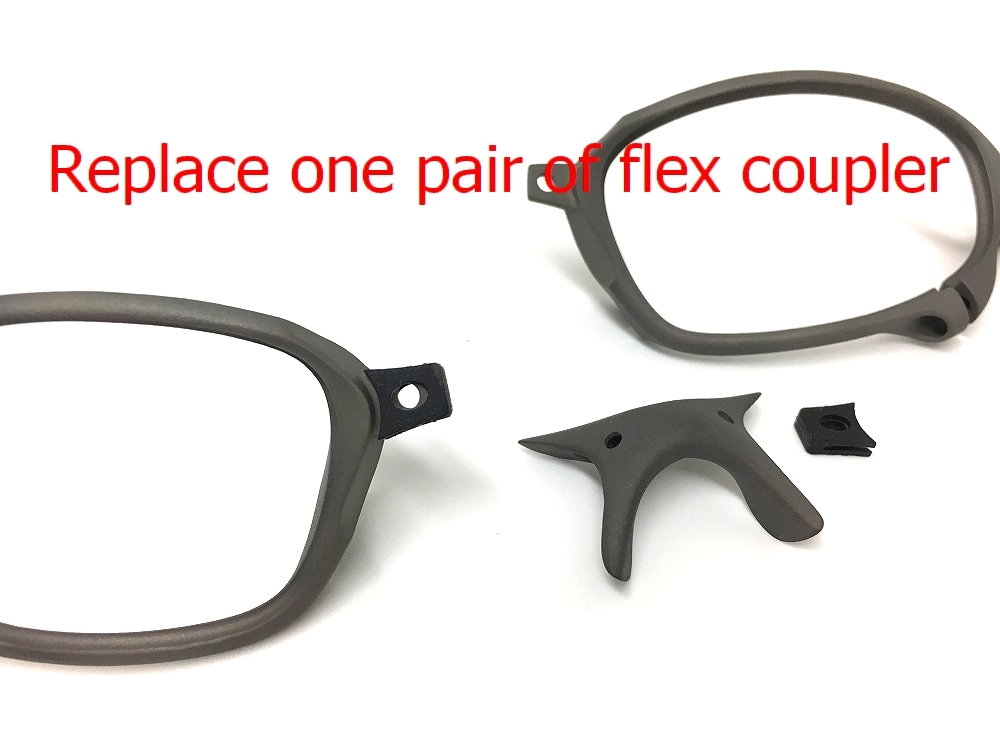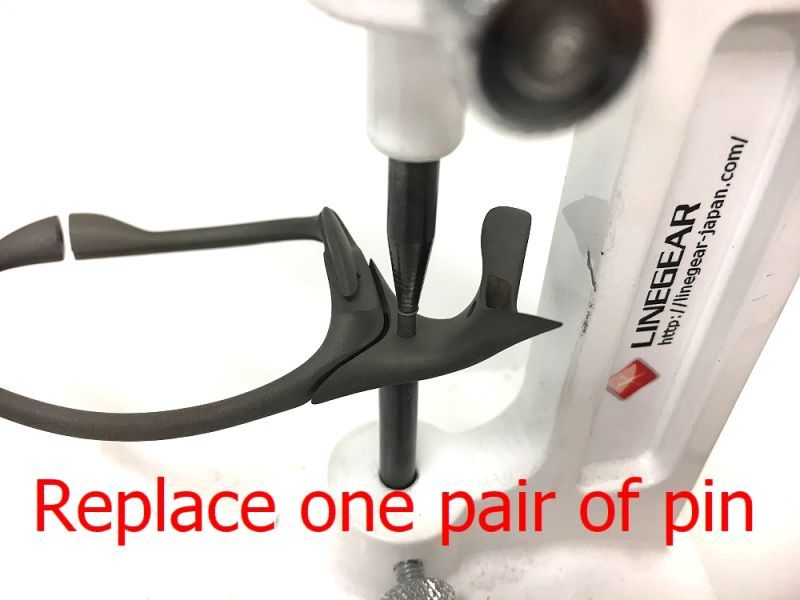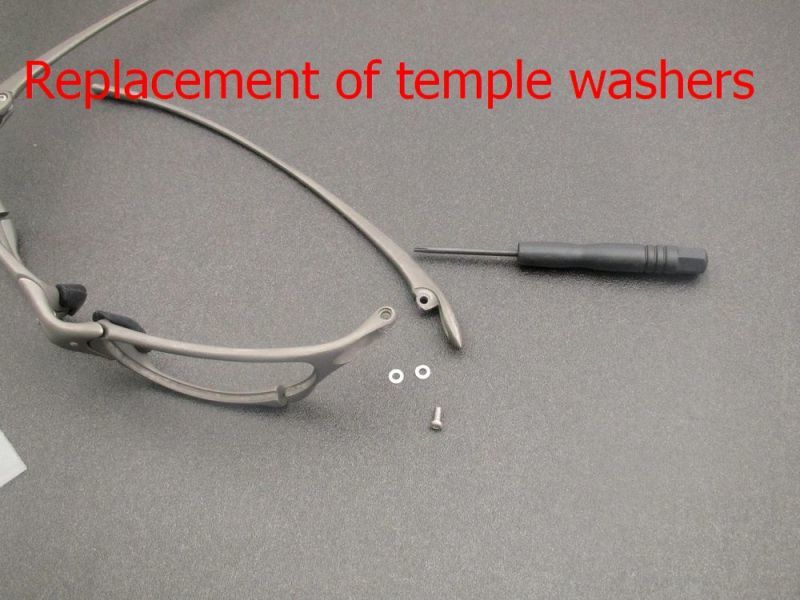 ---
Please place order like you place normal order with adding this service in your shopping cart.
If you bought lens and rubber parts or some other parts at the same time in this order, Plese describe if you want to attach it or not in remark section. We can change these parts for free!!!! (don't take additional attaching fee)
Pay Attention!!!
If you don't describe about it, We will send back your frame without changing(Just combine the item in the package)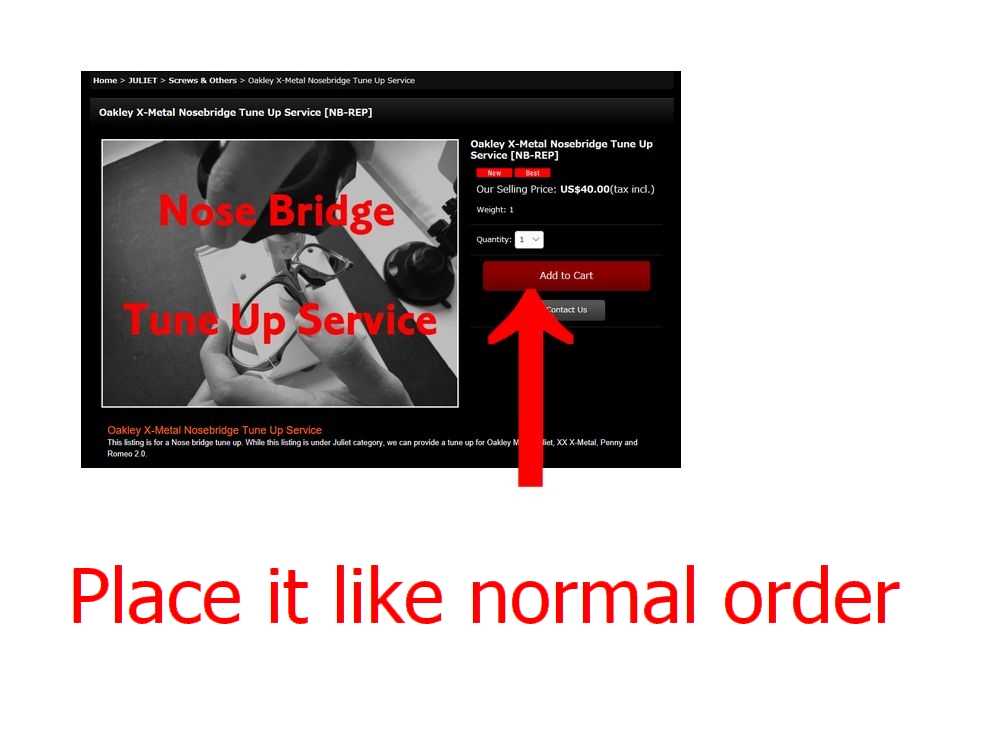 ---
After you palce order how to do
After your place the order, Please send your frame to us. The shipping address is below.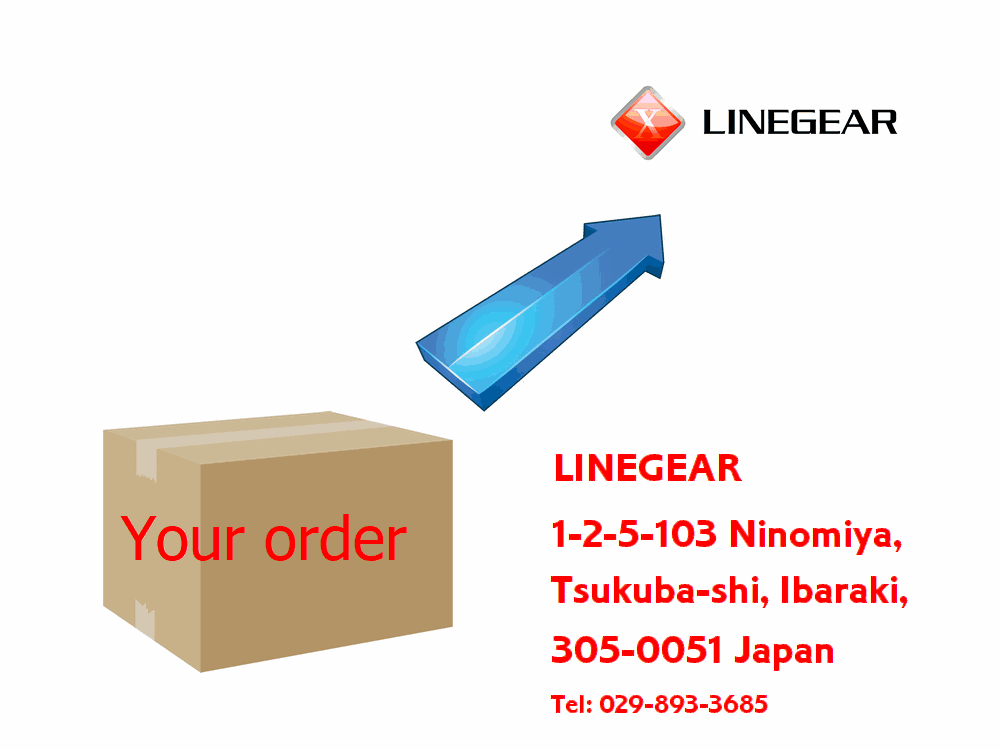 It depends on you whatever shipping method you choose. (We leave it to you if you choose any shipping method, we recommend it to ship it with tracking number)
Please declare the value of you package lower and describe it as a "Used sunglass for repair"" on shipping label to avoid import tax.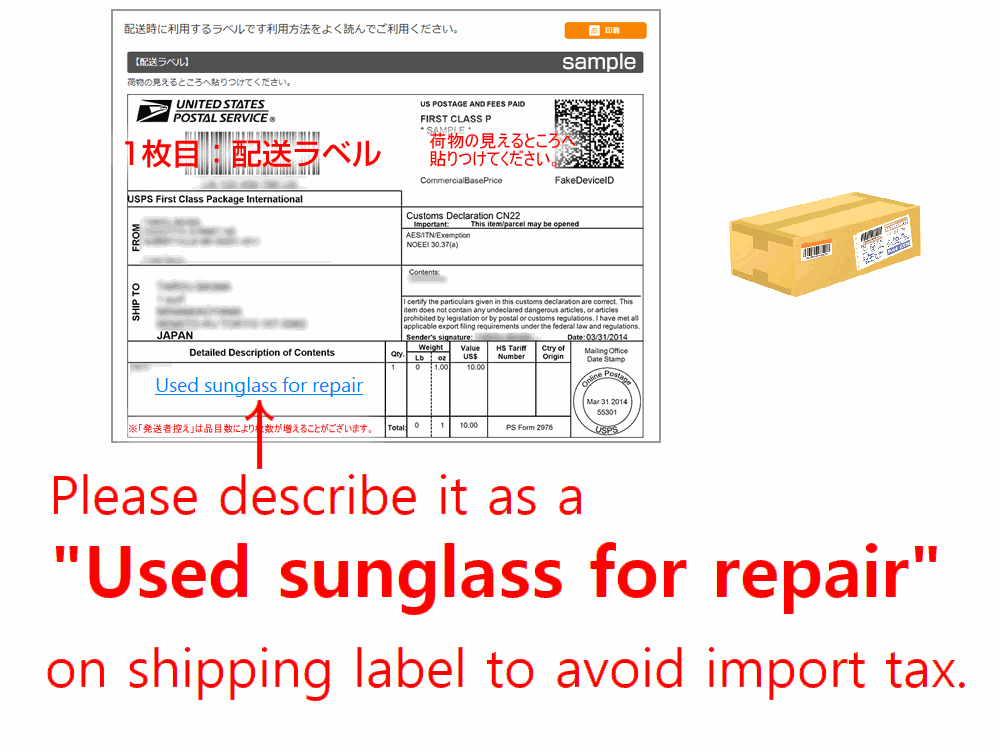 If you mention merchandise as the product details, we need to pay high cost for receiving the product So it will be better if customer will mention category as other while sending their sunglasses for repair. Customer can mention their product as "used sunglass for repair" to decribe the product detail information.

Please pay the shipping fee of your frame when you ship it to us.

AlSO IF YOU SEND THE PRODUCT AND IF IT CANNOT REACH TO US THEN WE ARE NOT RESPONSIBLE FOR IT SO PLEASE BE CAREFUL WHILE PLACING YOUR ORDER.

We will finish this service within 2 to 3 weeks.
We will send back your frame by EMS after finish, and provide you a tracking number of your package.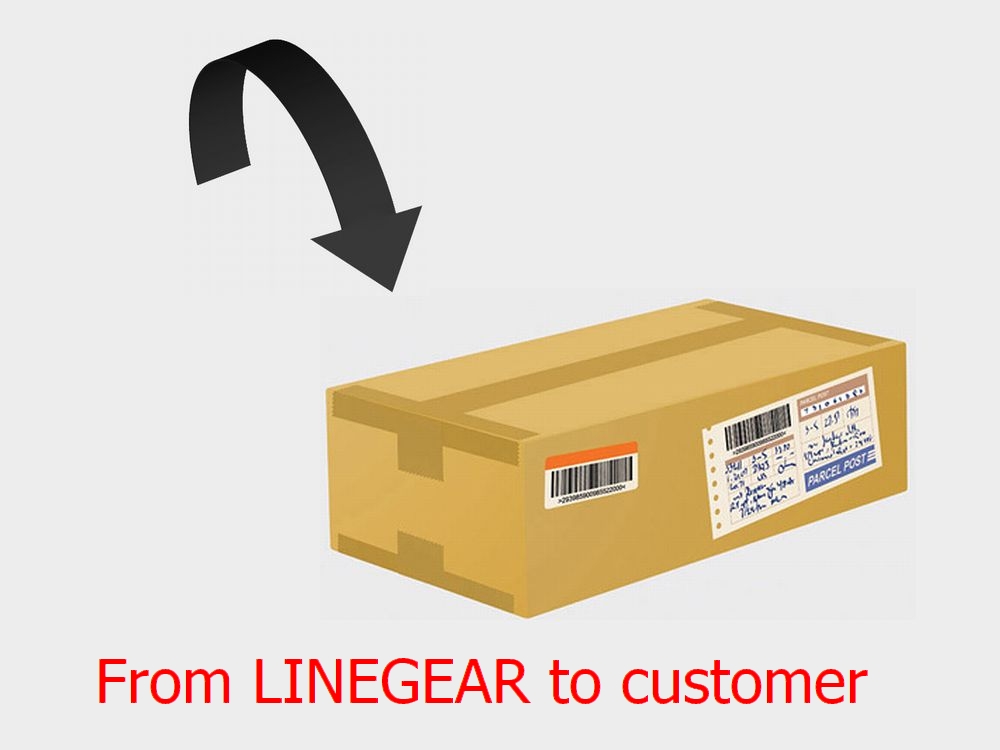 ---
<<Shipping address>>
To: LINEGEAR
1-2-5-103 Ninomiya Tsukuba city, Ibaraki, Japan 305-0051
TEL:029-893-3685
---
<<Others>>
When you send your frame to us, No need to remove any parts. We can remove and change it by ourselves.

If you buy some other parts at the same time in your order, we will combined and ship it back along with tune up sevices.

Due to the longtime use, Sometime the gasket is broken. There is no gurantee of gasket. In this case we will contact you to add gasket price. Plese understand it. We (try to keep your gasket to remove with safety)will take great care to removing process to protect it.

We take holiday in Saturday and Sunday. The estimated time to finish this service is not included our holidays.
Reviews
I WAS SKEPTICAL AT FIRST...

I've had my X-Metal XX for about 12 years. When I bought them, they were the only thing I wore and I wore them like crazy. As time progressed, they started to show signs if being tired and used. I called Oakley and asked if there was a way to fix them, but no. The flex coupler rubber in the nose bridge was pretty much gone, the frames where worn, and just looked sad! So I put them away and kept them away. Fast forward to November 2018: I pretty much decided that I was going to sell them because there was nothing else I can do. But before that, I decided to look around to see if I can find a way to fix them myself. As I looked around, I found LINEGEAR. I looked around their site and they sold all the things to fix them myself. AWESOME, right? Well, As I was getting things in my cart, I saw that they have this "Nose Bridge and Frame Refinish" service. I looked at the what the service entailed and with a little thinking, I decided to go for it. I was skeptical because of having to send my precious XX's to Japan,so I decided to talk to someone there and I started to speak with Liu Liyun and let me start off by saying that they were very nice, kind, and helped me with with all the questions that I had. After some thinking, I decided to go for it. I decided to get everything that I needed for the glasses: new rubber set, temple and orbital screws (because one if the screws was stripped), and lenses so I can get my XX's back to new as possible. As in the description for the service, they refinish the frame, replace the Pins (rivets), temple washers, and the flex coupler. After I placed my order, in the comments I let them know what I bought and that all the items that I purchased I wanted them to go onto my frames. I sent my XX's on 11/2/18 and got them back 11/20/18. They say it can take about 2-3 weeks for them to complete the work. It took a total of 18 days from when I sent them till I received them back. And when I open the package, WOW!!! I couldn't be more ecstatic and happier than the day I originally bought them! I am truly in awe in the job that LINEGEAR did with my frames, their customer service, and turnaround time. Also, anything that gets replaced, gets sent back to you and they separate the screws, rubber pieces, and lenses little plastic bags. Plus, they label each bag with the description of the item!!! If you want to do it yourself, you definitely can do it, but if you want to try and get them as new as possible, this service is the best way to go! I know for a fact that as long as I have my XX's, LINEGEAR will definitely have me as a customer for life. Thank you LINEGEAR for amazing craftsmanship, attention to detail, and letting me wear and keep my XX's for a long long time to come! -Saul

5

of

5

viewers said this review is helpful.

Is this review helpful for you?