JULIET - Premium Red - UV420
[
JU-PR
]
Premium Red UV420 Non-Polarized lens
This lens has almost the same mirror coating as Oakley "Ruby Iridium".
It keeps all of the light out and reduces glare, it is also easy-to-use in all day-time activities.
Looking through the lenses is gray and it offers a natural view, you can use this lens for a long time without any stress.

---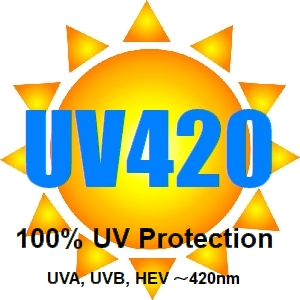 ★UV420 lens
The base lens of this item is "UV420 lens".
This lens cut UVA, UVB, and HEV (High energy visible light/cut until 420nm).
It provides you a comfortable sight you have never experienced, and at the same time protect your eyes from harmful rays.

However, Normal sunglass lenses can cut UV until 400nm, But this lens can cut more harmful sunlight(cut HEV until 420nm) than normal sunglass lens.
Please check the link below if you want to know more about UVA, UVB, and HEV.
---
<About Lens>
Mirror : Purple / Red / Orange

Light transmission: 10%

See through: Gray

Reflectivity: High

Thickness: 1.6mm-1.4mm

Lens curve: 8
<Function>
Decentered lens (Prism correction function)

UV protection 100% (UVA, UVB, HEV)

Impact protection (Polycarbonate)

Hydrophobic (Water repellent function)

Anti-reflection (Prevent reflection of light entering from the back side.)
T6 screwdriver is required exclusively for lens exchange, sell separately.